I actually did the happy dance when I noticed that I had a new follower. Not any follower... my VERY FIRST follower! And let me introduce you to her... drum roll....
It's Alex[andra] from Let life be like music. And check how she spells her name. How cool is that? Thanks again Alex[andra]... you will always be my first!
Now on to The Boys Behind the Blog....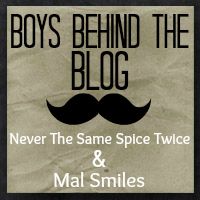 Even though it's been going on for a couple of months, this is my first time participating to this monthly link-up.
It's easy and sounds like a lot of fun. And since I
haven't talked much about my hubby, Bidou on my blog. This link-up was a great way to introduce him to you.
His name is André but I and everyone else likes to call him Bidou. We dated not even a year before we tied the knot. Soon after we met and him being a Canadian Army Officer, Bidou got his orders that he would be deployed to New Jersey for 3 year assignment and only wives were allowed to go. It didn't take long that I scheduled a date at the Justice of the Peace and we got hitched. Not sure about him... but I know that I have been happily married for 8 years.
Now for the link-up part - Bidou needed to answer the following 5 questions and here are his answers.
1. Describe yourself in 5 words.
Focused - Trustworthy - Self-learner - Self-starter - Flexible
2. What is your biggest fear?
Depending on someone for long term medical/terminal care
3. What is your favorite candy?
Anything sour that makes my tongue feel crappy after the candy is well gone
4. What was the best Halloween costume you've ever worn? (include pictures if you have them)
Dressed as a cow (happy cow!) but made sure no pictures were taken despite winning the best costume award for that party!
5. Who is your favorite football team?
I have been to only one football game in my whole life and I can't stand watching that game on TV trying to figure out why the game stops for unknown reasons. Ice Hockey is definitely my game with the Montreal's Canadians. Sorry USA, football to me is like watching carrots grow in a garden...