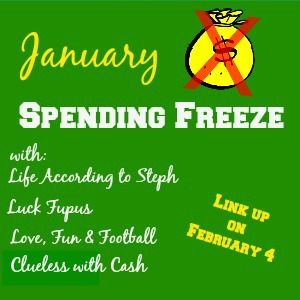 When I read that Steph from Life according to Steph regularly does spending freezes, I was impressed and I told myself that it is something I should do. Even though, I do keep track of my daily spending and follow a monthly budget... I do go overboard on some areas.
The following are my rules and my regulations that I have set for myself regarding the spending freeze effective from January 2nd to January 31st. Bidou will be so so happy!! :)
When it comes to spending $$ on daily purchases a.k.a. my problem areas!
No daily morning coffee run to Tim Horton - instead I will drink the "terrible" free coffee that is offered at my employers.
I have acquired two $10 gift cards (one at Starbucks and the other one at Second Cup) for my weekend or night time lattes. That makes 4 lattes in a month... it should be plenty!
No magazine or book purchases.
When it comes spending $$ on beauty stuff - another one of my problem areas!
My monthly hair appointment is scheduled for January 16th - I refuse to cancel it! I am 43 years old and have grey hair. Enough said!
I have a facial scheduled for January 10th - I will use the gift certificate that I received as a Christmas gift from the bosses at work.
No make-up, facial/body creams or hair products. I have enough stuff at home to last a couple of months, at least!
Last September, I promised my friend Christine that we would schedule a thermal experience with massage at the Nordik Spa\Nature for sometime in January. Exact date has yet to be scheduled.
When it comes to Kloé's needs
She does NOT need another bed, coat, sweater, toy or treat.
When it comes to clothes and shoes
I have enough clothes in my closet to wear something different every day for 2 weeks (at least!)
When it comes to spending $$ on lunches
I am pretty good when it comes to bringing my lunch to work. I usually just eat out on Friday's. However, during this budget freeze, I will bring my lunch everyday. single. day.
When it comes to grocery shopping
I will make a list of the items I
need
at the grocery store. If it is not on the list... I am not allowed to purchase it. My pantry is full so use it!
When it comes to eating out with Bidou
A budget of $100 is set for this category.... see how this will work out!
When it comes to weekend\nightly activities
I only have one activity planned. It is with my 12-year old nephew on January 25th. Money will be spent there. A budget of $75 has been set. I love to spoil that baby-boy-that-is-growing-up-way-too-fast of mine!
When it comes to renting movies
I am only allowed to buy 2 rentals via itunes since we use Apple TV. We pay a monthly subscription to Netflix therefore we will use is more.
Please wish me luck! I will need it! :)