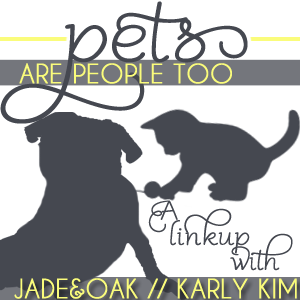 This week, I have been an unreliable blogger. On Monday, I posted a great Part 1 of my tops reasons why you should stay at the Secrets The Vine in Cancun Mexico and promised a Part 2 on Tuesday. Well Part 2 will probably be posted next week since I am still working on it! Please be patient!
Today I am linking up with Jade for Pets are People too. Any reason is a good reason to talk about my favourite girl in the house...Kloé.
I try to get her groomed every 5-6 weeks. I just adore her when she is smelling perfum-y and when her fur is silky and white. My Dad (her grandpa) dogsat while we were in Cancun last week. And when I picked her up last Saturday, she was grey and smelly. Her next grooming appointment is only scheduled for December 23rd, therefore, I decided to give her a bath myself for the very first time. And she loved it!!
How often do you get your dog groomed??