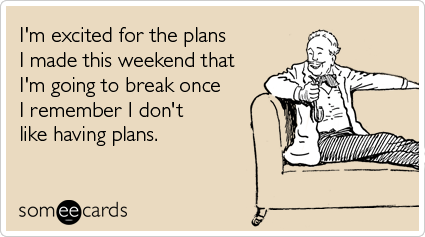 Why is it that I love to have a full schedule in the evenings and weekends but when it is time to attend the event... I am like... Why did I say yes to this? I just want to go home, sit on my couch and watch a movie, play Candy Crush (I admit it... I am obsessed and even paid $0.99 to reach the next level), read a book while drinking a latte.
Example ~ Tonight is the Annual Christmas Holiday party at work. The entire company will be there. It will probably be fun. Even the spouses are invited. Back in November when I received the invite, I was so excited, really looking forward to it. I even forward the e-mail to Bidou and told him to make sure that this was added to his agenda. That said Annual Christmas Holiday party is tonight... and I am dreading it... here I go again... why did I say yes... I am tired... I have a headache... it is FREEZING out... all I want to do after work is go home, have supper and sit on my couch and do nothing besides watching TV and play Candy Crush (lol)!!
Do you dread attending already planned events??